| | |
| --- | --- |
| | #9 / 12 Scafell Pike fell marathon, 02 September 2020 09:40:44 |
And now for something completely different…
A late change to a COVID-affected Summer holiday found Cally & I in the Lake district for a week's break. I had one eye on my September marathon but had not planned anything specific in advance. Our hotel was in the centrally located village of Grasmere and I took the long way in to recce the Eastern shore road around Lake Windermere. I thought I might use a loop around the lake for the run but it turned out to be an awful option – as a narrow winding road with no pathway it would have been an unpleasant outing. Also, what a fail to be in the fells and run a road marathon!!
On the day after arriving I went for a beautiful 8 mile hike with Carolyn. The day was clear and we were able to enjoy the stunning views from atop Heron Pike, Great Rigg and Stone Arthur. These were the fells immediately behind our accommodation and made up 3 of the 214 Wainwrights.
While out walking knew what I wanted to do – plot a route up Scafell Pike and then figure out a return to make up the 26.2
The Plan
The weather was due to close in but the worst was only coming after 2pm the next day. I reckoned with a reasonably early start I could be up and down Scafell before anything really nasty settled in. Having driven up I was also able to pack the kitchen sink so I'd brought gear for all possible conditions "just in case".
Using my trusty OS Maps app I plotted a course using the Langdale approach from the East. From my hotel to the top of Scafell Pike was 10 miles (16km) so I needed to add around 6 miles (10km) to an otherwise out-and-back route. Having never been in the area before I (pretty naively) just figured I'd take a Northerly diversion down the valley around Eagle Cragg and then back to Grasmere from the North West. I wasn't really taking in the contour info nor was I fully understanding what the terrain might look like. This is part of the fun really and it added to the sense of adventure.
I was short a few miles so added a loop around the lake – as it turned out this was not necessary – a few navigational misses and meanders had added to the estimated distance and I only needed an extra mile which I took up and down the road my hotel was located on.
The planned route
The actual route (same but with slightly different finish)
The weather was due to be partly cloudy in the morning closing over towards mid-day with some heavy rain from the early afternoon. It was not terribly cold around 13°C (55.4°F) but I knew this would take a while and things would be chillier up top. I packed my light windproof jacket, light waterproof shell and waterproof over-trousers along with gloves and my other basics (first aid kit, space blanket, flapjacks, water purification tabs, poles). I was also unsure about just how available water would be so I loaded up with a 1.5l (50oz) bladder, two 500ml (16oz) flasks and one extra 500ml flask in the backpack. This was the heaviest pack I'd ever run with!
The first bit to Angle Tarn
I set off at around 06:15am with the sun peeking in below the clouds from the East. I could see all of the tops of the fells wrapped in cloud and so knew things would get 'interesting' as I climbed. It was a fairly easy start with an up-and-over past Silver Howe fell immediately opposite our hotel on the lake (The Daffodil Hotel).
From there I dropped into the adjacent valley for the Easterly trek up towards Rosset Pike and Angle Tarn. This stretch was stunning with the Sun at my back flooding the valley with light against the rising cloud-topped hills ahead.
It was a little eerie being the only one about and as I neared the top of the valley and began the main climb there was a mild sense of foreboding: "what have I got myself into?". I wasn't really sure what things would be like up top but felt I had enough gear for reasonably tricky weather and was prepared to back out if things did not look good.
The views continued to be breathtaking but the wind came up and the temperature dropped off. Towards the middle of the first climb I put on my windproof jacket and that was just fine.
Over the top I was met with the view down to Angle Tarn (tarns are small elevated lakes) and I could see the pathway heading into the soup. I passed a hiker here (first of the day) who was coming down from Scafell Pike. I asked how it was an he said "pretty windy and the clagg is setting in" – great, I did not really know what that meant in real terms, only one way to find out…
Getting to the top of Scafell Pike
Some way further up it was getting windy and the temperature dropped further. I stopped and added my trousers and waterproof outer shell plus gloves. This was great and I was very comfortable temperature-wise. As I progressed things became a little dicey. The visibility was pretty poor and the terrain varied from rocky with some passable bits to outright clambering over boulders. All the while I had to regularly check the OS maps app for bearing and keep an eye out for the cairns which, to be fair, are really well placed and once you get the hang of it are pretty easy to follow. There were a few noisy doubts to put out of mind like "what if something happens", "how would I get down in an emergency", "what if there is no signal" etc, etc. I resolved to just move as quickly as possible but take care.
I had a funny moment near the summit when a call came through (signal was very patchy the whole way). It was Al our support engineer from work with a query from a customer – he knew I was on holiday but I said to call if anything warranted it. I said I was up a mountain and we had a chuckle about it before the call dropped. I've provided tech support from all manner of weird places including up a mountain in Austria while skiing – all in the game.
Reaching the summit was actually pretty nondescript. The big cairn just appeared out of the mist. There were two other hikers already there and I took a few quick pics and was on my way – no need to hang about and I wanted to get as far down as possible before the really nasty stuff arrived.
It was a lift knowing I'd got the summit out of the way. It was unclear at the start just how much of a challenge this was going to be and I just assumed this was going to be the hard part, hmmm, there's always a curve ball.
Mind games
At about 12.5 miles (just before getting back to Angle Tarn) I started to think about the time. It was 4hours 40 min on the clock for just under a half marathon!! Usually even I would be done with a full marathon in that time. This was going to take a lot longer than initially anticipated. A few more niggly doubts crept in as I approached the "fork in the road" which would take me North Eastwards on the route I set to make up the miles. I could just head back directly the way I came and avoid the unknown. Doing the marathon was optional.
I seem to hit these moments in the longer outings, the mind is a funny thing. I've learned now to just embrace the feelings and thoughts, recognise them and what they stand for and just move past them. For me, there's something in falling back to the original goal – I set out to do this and right now nothing material is in my way, press on. Close the door on the doubt room. I've also come to be able rely on my body. Having done the 100miler last month I had no doubts about being able to slug it out for as long as it took – it's a great place to be.
Down to Langdale Valley and up to Lining Crag
Hea
ding down out of the mist was a relief and I could get a bit of a jog on. I was realising that I'd need to adapt to the variable underfoot conditions and just keep focused on footings, not taking a tumble and "running" as fast as practical. This stint was great and then I learned my next key lesson of fell running.
To this point, other than the boulder fields in the mist, there was a pretty recognisable path most of the time. Navigation was pretty straight forward even if the path itself was tricky. The short section below Rossett Crag to Black Crags was pretty flat, very grassy and quickly became boggy. There was just no recognisable path. I kept looking at my OS Maps app trying to steer myself back along the dotted line! There must be a path – it says so on the map 😀 . The thing I think anyone with some experience in the fells knows is that it's fine just to go in the direction you want, especially when it's boggy.

The many faces of the underfoot surface I eventually relaxed and just headed towards where I knew I needed to go and carried this approach with me the rest of the way. My running shoes were just brilliant and shed water fantastically while providing great grip over firmer and rocky ground.
As I headed along the crest and then down into Langsrath valley it dawned on me that I'd picked a route which went down, down, down and then turned back on itself. On the other side of the ridge line to my right was the valley that I knew I would have to go up, up, up. Ho hum.
This was Stake pass and it held a series tight switchbacks as the path made its way to the valley bottom. I passed a few hikers who gave me strange looks as I ran by. I actually felt really good here and it was great to be running again. Near the bottom it was warming up and I took off the gloves and waterproof top and bottoms. The valley was pretty sheltered and the going reasonable.
I had my tunes on and just settled into a groove running as much as I could over the rocky ground. Towards the bottom of the valley the river widened over a few shallow cascading waterfalls and the tree density increased – it was (another) a beautiful spot. It's an interesting feature of the fells that there are generally very few trees, apparently due to the sheep. It makes for that stark beauty but the pockets of trees that do survive along with the odd loner really stand out.
As I turned the corner back up the next valley the wind and rain had arrived. I was soon back in my full wet gear and gloves. This was a real slog upwards and got really steep up to Lining Crag. Thankfully I had my poles with me and they really came into their own here. I used them more than for any other run but despite the support it was my slowest mile getting to the top – 46 minutes for 1 mile!! Some of that did include the stop to gear back up though.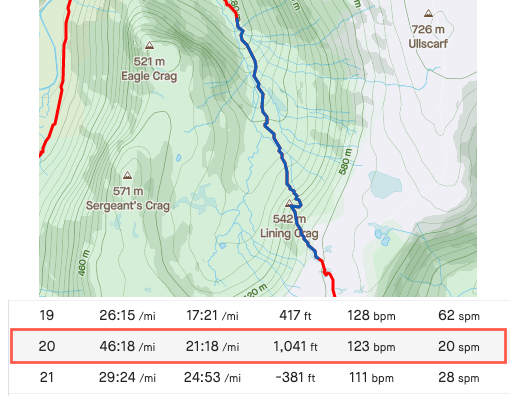 Bringing it home
The top section from Lining Crag over to Grasmere Common was again windy, misty and rainy with several boggy sections and it was tricky going but I just plodded on. As I finally dropped out of the mist the valley was reasonably sheltered and I sort of zoned out for the remainder of the run.
It was great to finally approach the village of Grasmere and I saw that I would not need to add the extra loop around the lake to make up the distance. It was odd running past folks in the village just ambling, shopping or heading for the pubs and restaurants. There was no climax, no finish line and yet here I was having completed my 9 hour 40 minute odessey. No one knew, no one cared (why would they). I was just thrilled to add this one to the collection. I felt like I'd given the fells a good go on my first visit and I'm sure I'll be back – its a very special place.
My home-made Scafell stone medal
From the outside this might look way to slow or way too long, or both to be interesting. It might not even look like a marathon. For me it was a marathon adventure. I just loved heading out into the unknown and immersing myself in the experience of the lake district. The beautiful landscapes, the taste of fell running and the sense of achievement to be able to slug it out for over nine and a half hours and come back smiling was just a joy. I highly recommend it 🙂