| | |
| --- | --- |
| | #8 / 12 North Downs Way 100 Mile Ultra Marathon, 08 August 2020 27:52:17 |
So many things were uncertain about this one. The biggest two were: starting, and then finishing. This race had been an elephant in the room for months. I think it was back in January when I entered. I figured I'd never be in better shape to have a crack at a 100 miler come August after what would be months of marathons including a 60 miler. I anticipated my monthly training volume would carry me and nearer the time I could get in some more specific preparation.
Hmmm. The best laid plans…
After the July marathon (also along the North Downs Way, 5th of July) it seemed clear to me that there was just no way I could do the 100. In fact, to quote myself:
Right now, the 100miler next month is off for me. A key objective of this run was to test where I was at physically. And the answer was that I'm not ready. I reckon I need to do some serious, focused and specific training to give myself a fighting chance.
It was such a relief to reach that decision – the enormity of the task had weighed me down and I just felt it was foolish to try and start underprepared.
So, what changed? Basically I had a good run and then all seemed possible. Nuts, I know – amazing how runner's amnesia works.
We were visiting friends in Cheltenham the week after the July run and I was relaxed having removed the burden of the 100. I plotted a route in the hills around the city and went for an early Sunday morning run. It turned into one of those "life affirming" outings. No pressure. Just run and enjoy.

Key, though, was how I felt. With over 2000 feet of elevation it was reasonably hilly and my legs just kept going and I felt fresh the whole way. It wasn't fast (11:08/mi | 6:55/km) but it was steady and I felt like I could immediately go and do it again.
Then, a few weeks before the race, an email from the organisers offered me 70% refund for cancellation –  no thanks! I let it ride.
I then started to add some training volume and decided to just see where things went. The table below represents my runs in the 3 weeks before the race. Key was the highlighted week where I did 71.5 miles (115km) and was out every day. Things still felt good. I'd also included a 23.5 mile (37.8km) night run to re-acquaint myself with my head torch and get a feel for running into the night.
| | | | | | |
| --- | --- | --- | --- | --- | --- |
| | Date | Strava Run | Duration | Distance (mi) | Elevation (ft) |
| 1 | Thu, 06/08/2020 | Morning Run | 00:36:52 | 3.19 | 246 |
| 2 | Tue, 04/08/2020 | Morning Run | 00:31:59 | 3.01 | 203 |
| 3 | Sun, 02/08/2020 | Morning Run | 01:46:34 | 7.80 | 1,030 |
| 4 | Sat, 01/08/2020 | Morning Run | 01:28:49 | 8.78 | 856 |
| 5 | Thu, 30/07/2020 | Morning Run | 02:05:48 | 11.11 | 981 |
| 6 | Wed, 29/07/2020 | Afternoon Run | 00:58:00 | 5.46 | 335 |
| 7 | Wed, 29/07/2020 | Morning Run | 01:04:38 | 6.43 | 259 |
| 8 | Tue, 28/07/2020 | Morning Run | 01:00:14 | 6.02 | 180 |
| 9 | Sun, 26/07/2020 | Morning Run | 03:01:12 | 15.39 | 1,814 |
| 10 | Sat, 25/07/2020 | Morning Run | 00:31:42 | 2.55 | 299 |
| 11 | Fri, 24/07/2020 | Night Run | 04:37:07 | 23.47 | 2,119 |
| 12 | Thu, 23/07/2020 | Morning Run | 02:24:45 | 13.52 | 1,007 |
| 13 | Wed, 22/07/2020 | Morning Run | 01:38:16 | 10.06 | 712 |
| 14 | Tue, 21/07/2020 | Morning Run | 01:01:45 | 6.54 | 180 |
| 15 | Sun, 19/07/2020 | Morning Run | 02:58:12 | 16.00 | 2,192 |
| | | | 25:45:53 | 139.33 | 12413 |
This is by no means enough but it came after about 900 miles (1448 km) of 2020 mileage with the 100km plus about 8 marathons in racing or training. Mostly on trails.
At some point I felt this might be viable. Suddenly, not starting was a bigger failure than not finishing. Not finishing, however, is just commonplace in 100 milers for so many reasons and I needed to come to terms with that possibility. For me, though, I have to believe in the finish otherwise there is no point. I started the mental prep by running though as many of the possible scenarios I could think of – tackling and solving each one. I watched loads of documentaries and short films of others' 100mile prep and race experiences.
It did not make things easier. If anything the true enormity of the task started to sink in but I was steeling myself internally. Generally, if I make a decision, that's it, the thing will get done and I needed to carry that into the race.
In the week before the race I tried to de-clutter my head as much as possible and remove any extraneous stress and rest-up well. My sleep was good but I could feel a pretty consistent elevation in heart-rate. The tension was unavoidable and clearly my body was feeling it.
Then, there was the weather…
With predicted highs of 32℃ / 92℉ things could get pretty dicey – who knew what a twist this would bring to the overall outcome.
I had a pretty good idea of what I was going to need on the day in terms of kit. Everything had been tried and tested and a new model of the shoes I'd used for all 3 previous 60 milers (Inov8 Terraultra G270) had just come out with exactly the key improvements I was looking for 🙂
To make sure I did not miss anything I made 2 checklists:
Backpack (

Mandatory

)
Dropbox – Mile 50 Knockholt Pound

Mobile phone (race numbers loaded)

2x 500ml flasks – fill with tailwind

Long sleeved base layer (underarmour)

Mobile flip case
Bladder with hose – fill with 1l tailwind

Backpack

Flapjacks

Poles quiver

Poles

Pole mitts

Headphones

Buff

White sun cap

Meds: salt stick, Proplus, paracetamol

First aid kit

Wet wipes

Loo paper

Glasses

Charger

Charging cables

iPhone

Headphones

Head torch

Watch

shorts

underwear

underarmour short sleeve

socks

dude wipes

deo

marmite cheese roll

head torches x2

head torch spare battery

long sleeve jacket (zipped)

plastic bag

rubber bands

safety pins

spare water bottles x2
 Flapjacks
I got everything ready the night before so that there would be no futzing around in the morning. Vicki captured a few of the prep moments from the night before and morning of…
At last the day had arrived. Vicki and Carolyn (my amazing crew) dropped me off at the Farnham Leisure Centre around 05:15 am and so began the COVID-safe odyssey.
The photographer was on hand to catch us one-by-one as we passed the NDW trail head sculpture heading towards the start. The start itself was a "self service" affair with a simple "beep" as you crossed the timing mat. 
And so it began…
The plan was to go real easy. I was aiming for 12-13 minute miles (7:30-8:00 min/km)  knowing that things would slide. My stretch goal was to get under 24 hours and, while I knew it would be a stretch, I really did not know how realistic that was. The numbers are easy:
100 miles in 24 hours = 4.2 miles per hour = 14.2 min/mile (8.8 min/km)
That's basically a brisk walk so what's the problem? Hah!
The first part – to mile 24
24 miles (38km) |  ⇑ 1570ft  | 05:00 hours | 05:35 – 10:35
Things were pretty smooth and runnable to Box Hill (24mi | 39km) and I just tried to settle into a rhythm. Temperatures were climbing but mercifully there was cloud cover and much of the route was under trees. My heart-rate was elevated from the off and I was into the 150's and 160's really quickly, this was definitely not normal for that pace/effort.

I'm pretty sure this was a combination of nerves and heat and I just could not get on top of this for a while. I worried that this would be my undoing later as I'd felt the effect of this in several of my past marathons. Things seemed to settle here after about 7 hours or so and fortunately I did not notice any overt effects.
After a few miles it was clear that my 24 hour goal was off. I could see my average sliding but this was actually a good thing – it removed an element of pace pressure and allowed me to rather focus on just keeping moving and keeping it together. In the back of my mind I adjusted the goal to sub-28 hour. This would hopefully give me a bit of a buffer to make the 30 hour cut-off.

Newans Corner (still fairly fresh)
The route on this stretch is beautiful and rolling through forests and fields and was often soft and sandy underfoot. I recorded a few video updates along this section thinking that I might do this along the whole route but at some point I just lost interest 🙂
It was a great surprise to see Ingrid Mrazova from my club (TAC) hunkered down just after the footbridge near the Box Hill Stepping stones taking photos. She snapped off the following cool pics, thanks for sharing Ingrid!
The second part – to mile 50 (Knockholt Pound, half way)
25 miles (40km) | ⇑ 2960 ft  | 07:11 hours | 10:35 – 17:46
I was now on familiar turf. This section was my back yard and I've run the 7 miles or so from Box Hill to Reigate Hill many times. It was a boost to be running this stretch also knowing I'd see Cally and Vix for the first time shortly. However, not before the nasty stretch up Colley Hill – always a killer.
There was an aid station at the top of Reigate hill followed by a drop to the crew point in Merstham. By now the hazy clouds had burned off and we were into full scorch mode. At the lead into the Merstham crew area an enterprising neighbour was offering icy hose-downs over the top of his fence. You have no idea how good that was and all of the runners were thrilled to get a cool splashing.
Also good were the ice lollies and ice cold water from Cally and Vix –  much needed for the upcoming hot phase.
I think this was probably the stretch which undid the most people. This was the business end of the heat spanning the period from mid-day through to 5pm. There was a lot of exposed ground without the leafy respite found in the earlier part and my watch recorded 34℃ / 93℉ for much of this phase.
While the heat was clearly ever present I somehow never felt debilitated by it. I'm not sure why. By the time I reached the aid station at Knockholt pound I was ready for a break. I picked up my drop box and found a chair outside the aid station hall. It was great to sit down.
I changed shirt, had a wipe down and spray of deo – I was seriously fruity by this stage. I contemplated changing shorts and underwear but it felt like to much of a kerfuffle and I would be wet through immediately anyway. I sweat a lot normally so you can imagine how soaked I was in the heat and humidity. I must have sweated out litres.
My hydration and nutrition were working well. I had the 2x 500ml soft flasks which I filled at each aid station and kept my backpack bladder topped up for the longer stretches between some stations. I used Tailwind in both of my flasks and drank some plain water at aid and crew points. I was also topping up with Saltstick tabs every hour or two. I think this was key. I was taking a minimum of 500 – 700ml liquid every hour with plenty of electrolytes. I ditched my bladder at Knockholt just to lighten the load with anticipated need being slightly less overnight.
For solid calories I had made and taken my own recipe flapjacks. I found Chia Charge bars had worked in the past and that they were really nothing more than regular flapjacks. My own recipe included Chia seeds, peanut butter, coconut, salt and Marmite (yum) but cut down to more manageable small blocks. I set an alarm for every hour to remind me to eat and I'd always have at least 1 flapjack. I was also getting the odd banana from aid stations. I think the consistent calories were also a big part of the successful finish.
A lot of the field dropped at Knockholt Pound and a few while I was there. It was horrible to see guys in agony facing that awful decision. I tried to be as quick as I could and get back out.
The next stretch to the Otford crew point was my worst. I wasn't in bad physical shape but I started get get a flood of negative thoughts. "This is too big", "you're only half way", " you have the whole night ahead", "you don't have to finish, no one cares one way or the other", "you've done 2 marathons already today, more than your 12 in 12 commitment". A bunch of nosy rubbish like that. It just kept playing on repeat and started to erode my mood. I started finding reasons to drop.
About a mile or two out of the aid station I had a tachycardia heart episode. I've lived with this condition my whole life which causes my heart-rate to rocket up to around 220 bpm for a spell. It's an electrical irregularity (rather than a physiological problem) and I can usually bring it under control with controlled breathing. I don't generally get it while running but it has happened on occasion and is a bit unsettling. This time I was struggling to control it. More fuel for the drop out fire. It did eventually correct and I continued on wrapped up in a cloud of doubt.
The third part – to mile 60 Wrotham
10.4 miles (16.8km) |  ⇑ 1000 ft  | 03:30 hours | 17:46 – 21:16
Coming into the Otford crew point was my absolute low point. Vix captured exactly how I was feeling…
Cally had phoned to let me know where they were and that they were at a pub, hmmm, "get me a half please". I thought the beer might settle things. In truth I really just wanted ice water and lollies and I never ended up having any beer. I slurped down 2 lollies and decided to just keep going. "If you're going to drop, at least push on to 60" was my thinking.
This is where things got strange. This is the part I don't understand. Leaving Otford you head immediately up a really nasty climb. In parts with steps. I thought "sheesh! really! give me a damn break". But, I kept moving. My legs were working, I just kept powering up. Something flipped in my head up that hill. I went from negative to positive in the space of  about 1.3 miles (2.2km) climbing about 390ft (119m) in about a 25 minute period. I got to the top and found myself in farmland with a the sun going down. It was just beautiful…
Back in the game.
From here to the crew/aid station at Wrotham I just kept pushing, much of it running comfortably. Everything had turned around. Cally will tell you – she was really worried at Otford but saw a different person arrive at Wrotham. I knew I could do this. The belief in the finish was there. There was less uncertainty. 40 miles to go! I can do this.
A breeze had come up and I thought I may chill off running into the night so I put on my long sleeved base layer. It only lasted about a mile! It was still very hot and sticky and I ran comfortably in my short sleeves all night.
The fourth part – to mile 76 Bluebell Hill
15.3 miles (24.7km) |   ⇑ 1568ft  | 04:19 hours | 21:16 – 01:35
This was "night part #1". I enjoyed some really good "running" in this stint. It felt like running but probably looked more like walking from the outside. Nonetheless, my legs were working really well. Shortly after leaving Wrotham  I passed about 3 or 4 runners separately. They were walking and I was running. This felt good. I was even running on "ups". I just kept pressing and my legs kept delivering.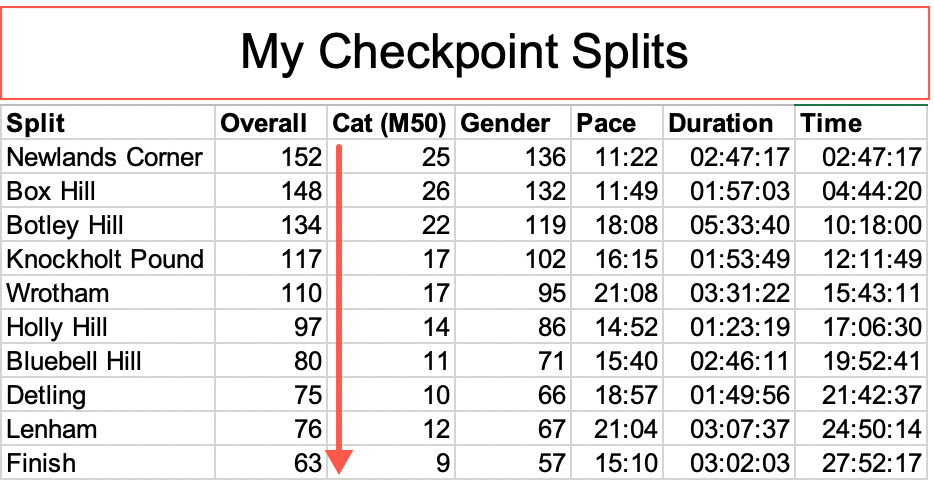 This was unexpected and a wonderful boost to be able to move up the field. Looking at it afterwards I discovered this was pretty consistent though all stages. Perhaps it was just more noticeable at night where the head-torches make things more pronounced. Drop-outs were clearly a huge contributor to this.
At exactly midnight my sister-in-law (Louise) sent me a text wishing me well and sending good vibes. She kept it up roughly every hour until 4am. Amazing!! I was not able to read all the messages (until after the finish) as I generally need glasses (besides the running in the dark) but I got the gist and it was awesome to have the support. Thanks Lou!!!
The fifth part – to mile 87 Hollingbourne
11.1 miles (18km) |   ⇑ 1538ft  | 04:01 hours | 01:35 – 05:37
This section I remember for being just cruel. The guys at Bluebell Hill aid station said it was pretty easy going to Detling with just some initial rolling hills. The course immediately plunged down to be followed by a long nasty up hill.
The guys at Detling said that there were a bout 4.5 miles of rolling hills before things flattened out for the finish. Lies 🙂 What followed were relentless steep ups and downs punctuated with a few sections on the ridge above the trees. 
Looking back this was quite challenging because it was completely unknown territory, in the dark, pretty technical underfoot all after already going for around 22 hours. After each new uphill I thought "right, surely that's it" only to plunge down again knowing that there would be another up! I'm glad I had no foreknowledge of this stretch – better to deal with it as it came.
It was, however, really pleasing that my legs again continued to deliver.
In the latter part of this stage, somewhere around 4:30am, came the first signs of sleep deprivation. I found my head feeling a bit "spacey" and my focus drifting. I took a caffeine tab in the hopes it would help and sure enough after about 5 minutes I was again clear headed.
After seeing the girls at Wrotham I had said to please not attempt to hit any more crew stops – I was good for the night and would see them at the finish. Then at 4:35 am Cally texted to say they would see me at Hollingbourne (mile 87) – yay!
This was a really welcome surprise as it was a long 9 mile stretch between the aid stations at Detling (82mi) and Lenham (90.9mi).
The last part – to mile 103
15.4 miles (24.8km) |   ⇑ 770ft  |  03:49 hours | 05:37 – 09:26
Thankfully this was pretty nondescript. It was great to be able to feel positive about hitting the 28 hour goal. The legs were tiring for sure but there was plenty of good running and I was again able to make up a few places.
What a joy to hit the track at the stadium. It's such an awesome way to finish the race. The only thing missing was probably Chariots of fire blaring out of the PA – no trouble, I had cued up Pink Floyd "Comfortably numb" in my headphones. It was a perfect finish.
The best finish. Ever!!
The wash-up
I'm so grateful to have been able to run and finish this event. It was such a huge challenge. I'm amazed at how my body responded to the task. Just a few weeks prior I had called it off feeling that I was not ready – just shows that we capable of so much more. It's a trite thing to say but when you experience it first hand the meaning becomes apparent.
There was no "transcendence" or anything deeply spiritual about the experience. No "road to Damascus". Equally, there were no real deep dark moments, no significant blisters, no significant pain and no falling. It was a good day. Sure I had a low phase where the doubts dogged me but all in all it was just about keeping forward motion – breaking it down into small chunks where all you have to do is the next…
I think a big part of the successful finish was the discipline of hydration and nutrition. Making sure this was regular and the right mix. I was a fan of Tailwind before but this really cemented it.
With only a 46% finish rate (the third lowest of all events Centurion have run in the past 10 years) it was clear that the heat was a killer.
There were just 17 runners with sub-24 hour times, last year there were 58.
The winning time was 19:33:27, last year was 15:18:41 (course record)
Only 2 runners went sub-20, last year 22 managed it.
There must be so many awful stories from other runners on the day and I really feel for them.
It feels like a great honour to be in this club of crazies who decide to go out and push themselves beyond their perceived limits. I'm in some pretty esteemed company and I met guys and girls who do this regularly. It's very humbling. One competitor was over 70 and also does several a year (he came in 2.5 hours ahead of me!!). Wow. Running has given me so much and at my age to be able to feel that my body is an asset is a great place to be. I'm really not sure if there will be anything as big for me again. Never say never but my next challenge is to just see out the 12in12.
Credits
Thanks to Vicki for her brilliant photos – full set here
Thanks to Cally and Vix for crewing. It's a pretty lousy day out and a horrible job to try and track and anticipate the runner. There's no easy way to relax and make a day of but it was a huge boost for me knowing they were there and that there were lollies ahead!!
Thanks to Ingrid Ingrid Mrazova for sharing her pics from part 1 – over the footbridge below Box Hill
I really must give credit to Centurion Running for staging this event at all. They had clearly given a great deal of consideration to safety and perhaps apart from the missing "mass start" buzz the race did not feel unduly compromised. Bravo!!
The brilliant 3D elevation maps are from veloviewer.com