#2 / 12
Northumberland Trail Marathon, 22 February 2020
05:15:57
"Savage" is the word for this one. The Northumberland coast boasts a wild beauty and on a calm sunny day I'm sure its wonderful. Mid Feb in the throes of a series of storms which had been marching in off the Atlantic for weeks and it was an altogether different prospect.
The finish was at Bamburgh Castle – providing a stunning backdrop – and it was here that we received the pre-race briefing before being transported by bus the 20min or so to the start at the foot of Alnwick Castle. The bus trip was welcome respite from the elements and a chance to warm up before setting off.
The marathon was one of four races (10k, Half, Marathon, Ultra) all running on the same day with staggered starts and was a really well organised event as part of the Endurance Life trail series.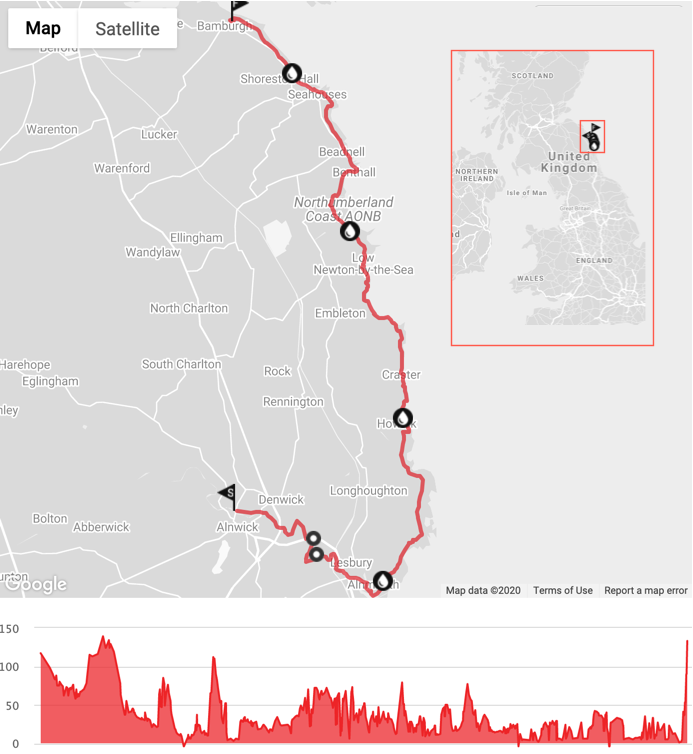 The wind was blowing a steady 25-35 mph (40-56 km/h) with gusts to 45mph+ (73 km/h) combined with temperatures at 5℃  (41℉) and wind chill taking it below freezing. With rain also predicted, getting the gear right was tricky – layers and wind-proofing was key and I took some backups with me to cover unforeseen eventualities. For the most part, clothing worked OK.
The race start itself was a very relaxed Parkrun-like affair and thankfully there was not too much hanging around. "2 minute warning", up to the line  and "off you go".
Things started well. The skies had cleared and the initial few miles were somewhat sheltered by trees and rolling hills as we made our way towards the coast. One thing I'd not prepared for was the soupy, slippy mud underfoot. I could really have used my nobly trail shoes – I'd naively expected a harder packed base. I think this continuous muddy 'skating' interspersed with soft beach sand contributed to the eventual breakdown of the legs. Just about everyone in front of me had a muddy bum from capsizing at least once along the way.
The first mini-adventure came just a few miles in when we had a river crossing over stepping stones. Except the river was swollen and so it became a "wet feet" race early on. No drama, my shoes cope really well with wet conditions and shed the water successfully.
Shortly after the river crossing came the first squall. From sunny skies to sideways rain in 5min, then sunny again. This turned out to be the theme for much of the day.
For me it was just a case of knuckling down and getting it done. The pace drifted pretty early and by half way I was feeling it. The soft beach sand and otherwise slippy paths had taken their toll and the howling wind (not often at our backs) was sapping the energy.
Running along the beach was 'interesting'. At times it was fairly hard-packed at the water's edge but mostly it was pretty soft going with spells of tricky rocks and the odd river mouth crossing – one had us knee deep in freezing water!!
The final insult was yet to come as we hit the last beach section at around 26miles (42km). Normally you're sensing home at this stage and you know you can coast in. I knew the race was billed as 27 miles (43.5km) and so was expecting another mile or so. Then about a mile further down the beach came a final checkpoint and I thought – that's odd to have one so late, I can see the finish area from here! I asked the marshal how much further and he said "2.6 miles" (4.2km). At any other time that's a breeze but on top of what had preceded with the wind at its worst whipping sand into your eyes and pummelling you head-on it was just plain nasty!
It was great to finally cut off the beach into the relative shelter of the dunes for the final half mile or so. I'd come for a challenge, to experience something different and I got all of that in spades. I learned a lot and see this one as a great bit of training for some of the gnarlier ones still to come.
I had tried to take in as much as I could – I knew this was going to be slower going and really wanted to "soak up" the scenery as much as possible. Despite the whingeing in this report I can say it really is a beautiful area and the route switches between pathways, beaches, dunes and rolling hills and it's great to have the sea on one side as an ever-present guide.
At times along the way I remember thinking I should suggest to the organisers: "rather put this one on in Summer" – but then the challenge of it would be diminished. The challenge is what made it memorable and I take a lot away from this adventure.